Purchse the
Entire Collection.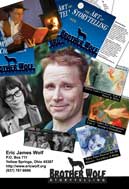 The complete storytelling collection of six CD's a hundred dollars in storytelling and twenty dollars in shipping available to you for $80 including shipping. Offer only available in the Continental United States.
Save $40 off all cost of ordering all six CD's by mail.
Hue and Joan Weikart say, "We have two loud and energetic grandsons, earsplitting boys who are always wondering, Are we there yet? We gave them your CD, Fairy Tales Forever, and drove on a two-hour trip. We forgot the boys were in the CAR! It was that quiet."
Tall Tales of a
Dyslexic New Yorker<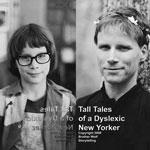 A lighthearted hour of warm funny family stories with Eric Wolf. A dyslexic childhood in New York City has given Eric Wolf a rich tapestry of truth and fiction to draw upon for your entire families amusement. For Ages 7 to 99.
This show has a empowering effect on parents of dyslexic children, dyslexic students and other students who have learning struggles.
When Cats Could Fly...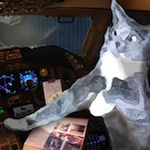 Awarded 5 out of 5 stars for kids by Nuvo News Indianapolis Weekly
"Cats could fly back during Brother Wolf's New York City childhood, a time when Roman Candles were subbed out for real ones on birthday cakes-- and when sleds could fly too, right down an icy hill into eight lanes of traffic (and that's how Wolf got his first speeding ticket, at age 9).
With his ability to bring to life eccentric characters like a WWI vet and Vodou priestess, Wolf is the kind of gentle, playful, imaginative storyteller you loved to sit before, Indian-style, back in your youth."Scott Shoger of Nuvo News.
(Only iNDYfRINGE Artist to receive Five out of Five stars from Nuvo News.
Peace Tales for Educators
Aesops Fables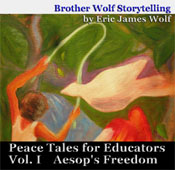 "Eric Wolf uses the traditional material of children's stories and makes these alive for young people today. His voice is warm, artful, and appealing. He speaks in a tone and with language that will appeal to children of various ages."
Dr. Eli Messinger, child psychiatrist
"Eric Wolf's stories unfold with tension and energy, yet connect to children in a positive way. He narrates with energy and commitment and draws us in with a warm, gentle, and engaging voice."
Dr. Barbara Barnes, peace educator
Fairytales Forever I
Peter and Myia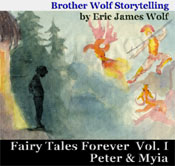 Two Lengthy stories of personal courage.
"Peter and the Magic Yo-Yo" is the story of a boy who lives with his single mother trying to cope with the loss of his father. He dreams of reconnecting with his father. Peter uses his own creativity and imagination to escape from being kidnapped by the King of the Goblins.
"Myia and the Sword of Light" is the tale of a young girl who uses her resourcefulness and strength of will to rescue her father. Myia retrieves a magical sword and defeats a dragon by the strength of her determination.
Clever hero stories for young boys and girls of any age.
Fairytales Forever II
The Flower War.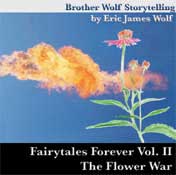 Fairy Tales used to be stories that mattered to children. We live in a world of deep despair and high hope. We live in a world of horror and happiness. We live in a world where monsters and angels walk the earth. It is wrong to tell children stories of sugar and spice that rot their morals and their brains. It is wrong to create stories that have no teaching's. True Fairy tales run a risk. True fairy tales speak of Danger with a capitol D. Fairy Takes help us to learn the roadmap outside our families. Map that once included an entire community of people who we would have known from birth.
Communities raise the most successful children. A network of uncles, aunts, nephews, nieces, and cousins is necessary to raise the successful children, and the center of this community is not the child's parents, it is the child's grandparents. Grandparents offer a gift to the child that no other person can offer. A sense of their story - of their place in hostory.
Fairytales Forever III
Atlantis - Treachery of Kings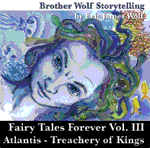 The series of Fairy Tales Forever is built upon a simple idea of many stories interwoven into one great master tapestry that holds them all together.
This is the forgotten story of the great city of Atlantis and it's stories, history and myths as discovered by Peter and Myia in there great journey to restore the tree of life.